Jurassic World: Dominion Dominates Fandom Wikis - The Loop
Play Sound
This page will serve as a basic how to play guide for Blazing Sails. While there is very little information available at this time, we urge you to check back often, as new information is being added all the time! Feel free to edit this guide with any tips, tricks, and suggestions.
Main Menu And UI
[
]
The Games Interface and UI is an easy to navigate Interface. At first, it might seem a bit overwhelming. But dont worry. After reading this section. The UI will be much more easier to navigate.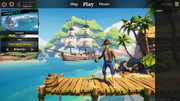 1. There are 3 buttons at the top of the screen. The 3 button says Ship, Pirate and play. 2. The Person in the middle of your screen is your Pirate. You may customize the pirate by adding cosmetics you earn from playing the game.
3. To the right of your screen is the friends list. You can invite friends to play with you.
4. The Gear Icon at the top left corner is the settings, and the power button icon at the top left corner is used to exit out of the game.
5. The Cards Underneath the gear and power button icon is where you can see news about the game. The Card underneath it is where you select what ship you want. Currently there are only 2 ships, but more will be added in the future.
6. The Pirate ship behind you is the pirate ship you are going to use if you start your own crew.
Server List and joining one
[
]
Once you hit play, you will see 4 options, Either watch the tutorial, go into a quick-play match (NOTE: This will be added later.) join a server and host a new one. If you want to just play the game, click on servers. You will notice alot of things on the server list